100th Anniversary of the Battle of Mouquet Farm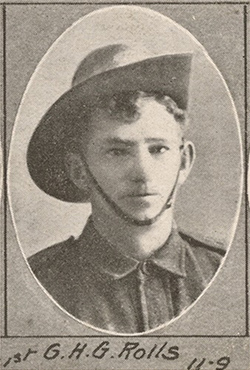 The Battle of Mouquet Farm was a significant (and bloody) operation and part of the Battle of the Somme. The 1st, 2nd and 4th Australian Divisions were involved from 10 August to 5 September 1916 when the 4th Division was finally relieved by the Canadians. The relief marked the end of the Australian Imperial Force's (AIF) participation in the Battle of the Somme. The Australians never captured the farm and suffered many casualties during the operation. The 49th Battalion (Queensland), part of the 4th Division, was much involved including one Private Glanville Henry George Rolls.
Rolls, a miner, enlisted in Rockhampton on 5 August 1915 and was assigned to the 11th Reinforcements for the 9th Battalion. During his training he was awarded three days 'confined to barracks' for 'Breaking camp orders by playing a piano during parade hours'. Clearly there wasn't much room for individual initiative during training!
He embarked in His Majesty's Australian Transport A 48 (Seang Bee) on 21 October 1915 and sailed to join the 9th Battalion which, by the time the ship arrived, was re-grouping in Egypt after Gallipoli. As part of the re-organisation of the AIF, a number of battalions were split to provide a core of experienced men in two battalions, each to be bolstered by reinforcements. Thus, the 9th Battalion 'sired' the 49th Battalion – to which Rolls was transferred on 29 February 1916. He duly arrived in France with his battalion on 12 June 1916.
He was fighting with his battalion at Mouquet Farm when he went missing on the night of 04/05 September 1916 – just before the battalion was relieved. In a letter sent from Belgium later that month, Rolls' friend Private Harry Roles (of the same battalion) said:
'…we lost poor old George Rolls in our last stunt, he is reported missing. I don't hold much hope for him unless he was taken prisoner. I don't think that was so, though let us hope he is safe. He was a great mate to have. I don't think you could get a better mate than George.'
A Board of Enquiry later determined that he had been killed in action on 5 September 1916 – one year and one month after he enlisted. He has no known grave and his name is engraved amongst so many others on the wall of the Australian National Memorial at Villers-Bretonneux.
But family connections are strong in Queensland. His great nephew is Ian Walker, who was the Member for Mansfield from 2012 to 2017.