Australia on the Western Front
The Western Front, which ran across the industrial regions of France and Belgium, was one of the most important battlegrounds during the First World War.
It is where great battles were fought and where more than 295,000 Australians served between March 1916 and November 1918.
During those 33 months, more than 30 battles were fought, including Fromelles, the Somme, Bullecourt, Messines, Passchendaele and Villers-Bretonneux. Australia's losses on the Western Front were staggering, with more casualties in the first six weeks of our involvement than the entire eight-month Gallipoli campaign.
By the end of 1918, 46,000 Australians had lost their lives and 132,000 were wounded.
Our history records no greater example of Australian sacrifice and for this reason, the bravery of our soldiers on the Western Front deserves to be remembered.
Together let's honour those who served on the Western Front.
Learn more about the battle for Mouquet Farm.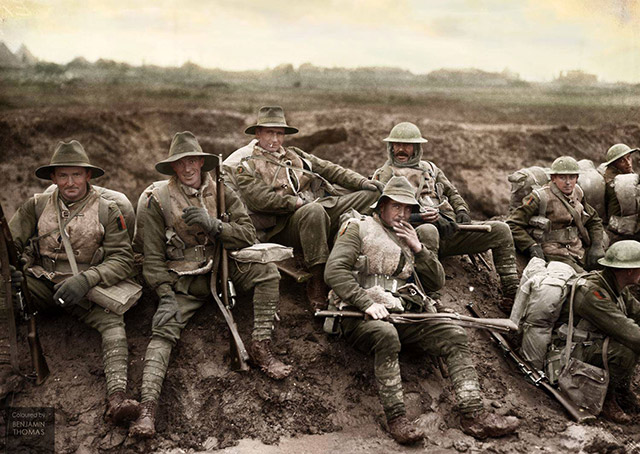 Interesting Western Front facts
Australia was involved in 29 battles on the Western Front.
Nine Queensland Battalions served on the Western Front over 33 months.
There's a town in Queensland called Pozieres. Originally a soldier settlement village, it took the name Pozieres after the First World War to commemorate the selfless contributions made by the men and women who served in France.
Famous people who served on the Western Front include J.R.R Tolkien (author The Hobbit and Lord of The Rings), A.A Milne (author of Winnie the Pooh), Wilfred Owen (British poet) and Claude Rains (Hollywood actor).
Every minute of the Battle of Fromelles, nine Australian soldiers were either killed, wounded or taken prisoner. This battle lasted for 10 hours overnight on 19-20 July 1916.
There were enough trenches dug to stretch around the Australian coastline 1.3 times (40,234 kilometres). The trenches were often dug in zig zag patterns and given names by the soldiers like Bond Street and Death Valley.
The first skin grafting and plastic surgery techniques were used in Sidcup France, 1917 to give soldiers a second chance at life.
While serving on the Western Front, 55 Australians were awarded the Victoria Cross, the highest award for acts of bravery in wartime, including Queenslander Pte John Leak for his actions during the Battle of Pozieres.
Australians first saw the use of tanks on the battlefield on the Western Front. Tanks of the time were either males (armed with cannons) or females (with machine guns).
A common meal in the trenches was maconochie – a tinned stew of meat turnips, potatoes and carrots. Other rations included bully beef, hard biscuits and tea, but over time the amount of food available to soldiers greatly reduced.
2800 sets of Australian brothers perished between 1915 and 1918 at Gallipoli, Palestine and the Western Front. The six Keid brothers of Graceville, Brisbane all enlisted to serve during the First World War and tragically only two came home. Leonard and Bennett Keid died a day after each other on the Western Front.
It is said that one of the men serving as a message runner in the German 6th Bavarian Division on the Western Front was Adolf Hitler who at that time was an Austrian Lance Corporal.
German trenches were in stark contrast to British trenches. German trenches were built to last and included bunk beds, furniture, cupboards, water tanks with faucets, electric lights, and even doorbells in some instances.
The French were the first to use posion gas during the war, however the German army was the first to strategically consider how releasing a chemical gas such as chlorine from pressurised cylinders could help break the stalemate of trench warfare. The Australian Imperial Force experienced fatal gas attacks on the Western Front. Sadly, the gas masks issued to save lives also caused fatalities, as the masks hampered movement and induced disorientation and fatigue.
60% of all casualties on the Western Front came from artillery shell fire. Shell Shock was a term used during the First World War to describe the psychological trauma suffered by many on the frontline.
1916: Australia joins the campaign on the Western Front.
By December 1915 Australians were stunned into a deep sense of grief tinged with a perverse sense of pride. They had allowed their young men to volunteer for war - no one made them go - but families and communities began to suffer as the casualty lists grew and news arrived ever so slowly from the battlefields on Gallipoli.
As the first casualties, many grievously wounded, began to return home, the reality of war hit Australians in a personal way. Gallipoli cost 8141 Australian lives with 26,111 casualties in total.
Every community was affected though none could anticipate as 1916 dawned that by year's end those figures would be overtaken in two battles at Fromelles and Pozieres. Almost 2000 men were killed or died of wounds in a single day at Fromelles on 19 July 1916.
A century later that battlefield is still giving up its dead and modern science is giving them back their identities.
If that wasn't enough grief, over 42 days from 23 July 1916 another 23,000 Australians became casualties at Pozieres, 6,741 of them killed.
In the first five days the 1st Division, including Queensland's 9th Battalion had suffered some 5,285 casualties.
Official historian Charles Bean later wrote Pozieres "is more densely sown with Australian sacrifice than any other place on earth."
Among the fallen was Queenslander Major Duncan Chapman of the 45th Battalion who, as a lieutenant had led the 9th Battalion ashore at Gallipoli, being amongst the first men to land.
Yet before these battles even commenced, Australians had paused to commemorate and remember the men of Gallipoli and their deeds which had so energised the nation's spirit despite the cost. There were no solemn public parades or services in 1917 to remember the fallen at Fromelles and Pozieres nor in the years following.
Gallipoli and more specifically the landing are the events that have permanently stirred Australia's conscience about sacrifice and loss. Recently Australians paused as 33 remains were repatriated from wars 50 years ago.
At Fromelles names are being given to remains lost for a century. Even without a known grave, every casualty had a name and for their surviving families has a name.
While we do not need to pause on every anniversary of every battle, we should ensure their names remain known, their deeds remembered.
Lest we forget.