Mareeba's Portraits of the North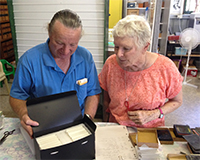 Volunteers at Mareeba Historical Society worked with Queensland Museum Conservator, Sue Valis, and Far North Queensland Museum Development Officer, Jo Wills, to conserve their First World War related collections in their grant project, Portraits of the North.
The project was designed by the MDO program and the Historical Society to preserve, protect, present and promote the legacy and stories surrounding their significant collection of glass plate soldier portraits and associated First World War artefacts.
The glass negative portraits celebrate the youth and vigour of enlistees before they left to serve their county overseas. Postcards and letters home touchingly reveal the personal impact of service, and the ways soldiers and nurses communicated with loved ones at home. Other glass negatives document scenes from The Front, enlistment posters, musical scores and stories from war correspondents.
Additional items include a dressing bandage, a soldier's belt, a Dead Man's Penny, war medals, silk cigarette cards with military insignia, and photographic albums. Ms Valis undertook specialist conservation and rehousing of some of these artefacts, making them accessible for the society's four exhibitions in 2015.
Helen Kindt, Secretary and Treasurer of the Mareeba Historical Society, and David Foster, a volunteer, were closely involved with this labour of love—the process of making individual pockets for different sized glass negatives and lining storage boxes with protective foam.
Ms Kindt believes the project will be a legacy for the region, telling and preserving the stories of local soldiers for years to come.
"I feel it's extremely important that the coming generations know what the earlier generations sacrificed. And personally, I learnt so much about the conservation aspect—and how to look after these precious artefacts."