History through postcards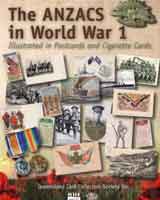 The ANZACS in World War 1 publication is a 54 page book written by the Queensland Card Collectors Society Inc.
The book, which took nine months to write and collate, showcases illustrations and copies of postcards, cigarette cards and other items from the societies First World War memorabilia that were sent and received by the troops and their families during the First World War, describing life at home and on the front line.
Mr Alan McNaughton, President of Queensland Card Collectors Society Inc., said even the members putting the publication together were surprised at some of the postcard images other members were able to supply from their collections.
"I don't think it is generally realised that small community societies such as ours are in possession of such a wealth of material, and Australia's—particularly Queensland's—involvement in World War One is a popular area of collecting for our members."
The ANZACS in World War 1 also features both military and civil aspects of the war as it relates to Queensland, such as:
Victoria Cross winners
military hospitals and health workers
infrastructure and transport
community support for the soldiers serving
propaganda and patriotism.
"The amount of work involved in editing was certainly more than we expected, with all work on the project being voluntary," Mr McNaughton said.
"We felt that a publication of this kind would enable some of the cards we collect to be seen by the public and place on public record some of the events that took place in World War One, the effect it had on those involved in them, and the impact it had on those who had to cope at home".
The one-of-a-kind publication has been distributed to numerous historical societies, genealogical societies and military museums around the state. In addition, copies have been supplied to the Brisbane City Council library service.
Queensland Card Collectors Society Inc. were also able to use images of postcards printed by Queensland company Murray Views Pty Ltd (Gympie) in their publication. Murray Views Pty Ltd has been a publisher of postcards since 1908 and have contributed greatly to the pictorial history of Queensland.