Cherbourg Anzacs: Boys from Barambah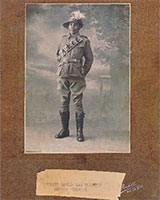 When many people think of our Anzacs, they picture fresh-faced young boys seeking adventure and fun.
What comes as a surprise is the diversity of our men who bravely went to war—young and old, rich and poor, and from many different communities. The boys from Barambah are such men: a group of courageous Aboriginals who enlisted to fight.
At the time of the First World War, Cherbourg was known as Barambah, and many Aboriginal men from the area signed up to fight for the British Empire in faraway fields and deserts. Like many Indigenous soldiers around the country, they enlisted despite many barriers and personal hardship, including institutional racism and bitterness. Some however left for the call of travel and to experience something new and exciting.
In order to recognise and honour their service and sacrifice to Australia, the Cherbourg Historical Precinct Group produced the Boys from Barambah, an exhibition of stories telling tales of bravery, sacrifice, hardship and commitment.
Exhibition committee chair Eric Law said the Boys from Barambah captured the stories of our young Aboriginal men leaving their homes for the first time and going abroad to foreign lands to fight a war.
"It would have been very easy for these fellows, considering the way they were treated, to say 'you go, it's not our fight'," Mr Law said.
"Yet they wanted to fight for their country. They had a belief their traditional lands were under attack and were prepared to die defending them."
Boys from Barambah contained stories that are both interesting and unsettling. One such story concerns a group of young men who enlisted only to find they were part of a stunt to shame white men into joining the armed forces in Brisbane. Ironically, it was corrupt organisers that should have been ashamed.
The men were subsequently sent back to Barambah after a few weeks, and then delisted on the grounds that they were not sufficiently 'associated with white people'.
Until recent research, less than 20 men from Cherbourg were recognised as having contributed to the First World War effort. Now it is known the number is at least 47. To honour these men, the Memorial Park was renamed as the 'Boys from Barambah Anzac Park'. The community also unveiled a new honour board at the Cherbourg War Memorial to acknowledge all the men who enlisted from the Barambah region.