The Battle of Polygon Wood
Commemorations for the 100 year anniversary of the Battle of Polygon Wood took place in Cairns, Rockhampton and Roma on Sunday 24 September 2017.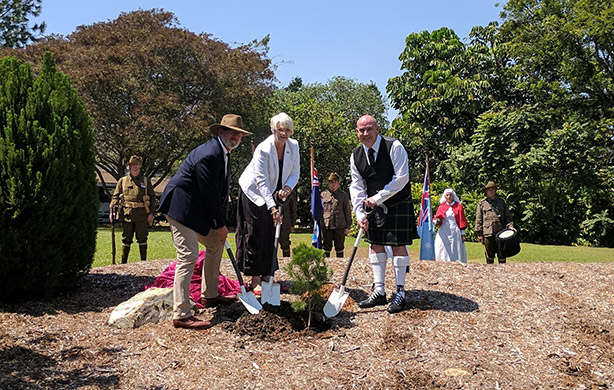 About the battle
During the second phase of the infamous Third Battle of Ypres, Australian soldiers fought bravely to secure positions in and around a young forest plantation near the Belgian town of Zonnebeke. Known as the Battle of Polygon Wood, this crucial victory allowed the allied forces to advance towards the tactically important Broodseinde Ridge.
The eight-day battle (from 26 September to 3 October 1917) was a success, but victory came at the cost of more than 5700 Australian casualties, including many Queenslanders. In the course of it, Private Patrick Bugden of the 31st Battalion (Qld and Vic) won a posthumous Victoria Cross.
Queensland remembers
In September 2017, communities across Queensland gathered to reflect on the lives of the soldiers who fought in the muddy, ruined forest of Polygon Wood. The community joined with descendants in Cairns, Rockhampton and Roma, planting commemorative trees to provide a living reminder of the sacrifices the Queensland soldiers made. Over 500 people attended these special ceremonies.
Commemorations continued throughout September and October 2017 with interactive art displays in Cairns, Cloncurry, Rockhampton, and Roma libraries. Children were invited to colour in a polygon depicting the Anzac values, and attach it to the patchwork tree. The interactive art display reminded the community what our Anzacs stand for: mateship, courage, duty, teamwork and integrity.
A special thank you to Cairns, Rockhampton and Maranoa Regional Councils and Cloncurry Shire Council for helping Queensland to honour this special anniversary.