Events
We are proud to support Queenslanders as they commemorate the centenary of the First World War from 2014 to 2018.
You can:
Featured events
Remember our Anzacs
When: Saturday 30 September 2017, 10am–4pm
Where: South Bank Piazza, South Bank Parklands
Visit the South Bank Piazza before Riverfire on Saturday 30 September 2017 to learn more about Australia's involvement in First World War battles like Polygon Wood and Beersheba.
At this free event, you can write a message of support to current serving Australian men and women, see horses and riders in military uniforms from 100 years ago, enjoy live music, and watch historic re-enactment performances. Children will also enjoy Anzac-themed crafts, including badge and poppy making.
It's a family friendly day and a fun way of learning about our important military history.
Proudly presented by the Queensland Government.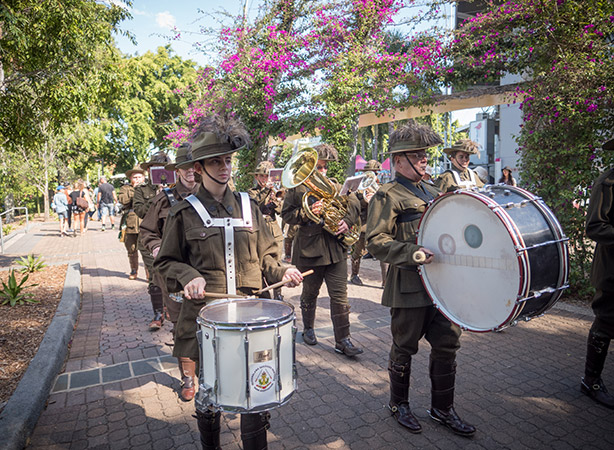 100th anniversary of the Battle of Beersheba
The Australian Light Horse demonstrated exemplary courage, dedication and ingenuity when they charged the trenches and captured the town during the Battle of Beersheba. One hundred years on, we commemorate how these incredible men and their horses changed the tide in the Middle East during the First World War.
Commemorative ride
When: 19–23 September 2017
Where: Barcaldine, Ilfracome, Longreach and Winton
Throughout September, the Queensland Mounted Infantry Historical Troop (QMIHT) will honour the Australian Light Horse with a series of commemorative activities throughout central west Queensland.
A 100-strong contingent of riders and horses will travel a 288km route from Barcaldine to Winton, stopping at Ilfracombe and Longreach.
Date and time
Town
Event and Time
Tuesday 19 September
8.30–9.30am
Barcaldine
Mounted street parade and memorial service at the Barcaldine War Memorial Clock Tower.
Tuesday 19 September
1–2pm
Ilfracombe
Mounted street parade through the centre of town and a march pass at the Ilfracombe War Memorial.
Wednesday 20 September
6.30–9am
Longreach
Memorial service, mounted street parade and opening of the Beersheba Place memorial at the Longreach Botanic Walkway.
Wednesday 20 September
10am
Longreach
Mounted street parade from the Showgrounds through town to the Australian Stockman's Hall of Fame.
Thursday 21 September
6pm
Winton
A re-enactment of the historic charge of Beersheba at the Winton Outback Festival Sunset Extravaganza Dinner.
Saturday 23 September
11am–1pm
Winton
Mounted street parade in collaboration with the Winton Outback Festival's Grand Parade Spectacular.
Visit QMIHT to learn more about this historic event.
Ceremonies and re-enactments for Queensland school children
When: Tuesday 31 October
Where: Australian Outback Spectacular, Oxenford
On the 100th anniversary of the historic charge, over 1500 school children from South East Queensland will attend a commemorative event, where they will be treated to excerpts from Salute to the Light Horse performance, a dramatic retelling of the events at Beersheba.
In addition to the remarkable horses and talented performers of the Australian Outback Spectacular, the performance will include educational interviews with descendants of Lieutenant General Sir Harry Chauvel and a special commemorative ceremony. It will be an informative and memorable experience, giving many Queensland children an Anzac story to share among family and friends.
While these commemorative ceremonies are closed events, the general public is welcome to purchase tickets to the standard Salute to the Light Horse performances.
Freedom of entry parade with 80 military vehicles through Brisbane
When: 28 October 2017, 10am
Where: Adelaide Street, Brisbane
On 28 October, the current 2nd / 14th Light Horse Regiment (Queensland Mounted Infantry) will exercise their right to Freedom of Entry to the City of Brisbane. The ceremonial parade is the most honourable distinction that a city may bestow on a contingent of the Australian Defence Force.
For those on the sidelines, it's set to be a spectacular event involving 80 military vehicles including four M1A1 Abrams tanks—the first time these massive armoured machines have ever been in Brisbane.
After an inspection by the Lord Mayor at 10am outside King George Square, the parade will power along Adelaide Street, ultimately ending at Little Stanley Street in South Brisbane. There, from 11am, a selection of vehicles will be open to the public as part of a family fun day organised by RSL Queensland.
Share your own event
If you're involved in an event commemorating the Australian Light Horse and their iconic charge at the Battle of Beersheba, please share the details with the community.