Anzac Legacy Gallery
Arts Queensland and the Queensland Museum will create a new permanent gallery and exhibition that explores the impact and legacy of the First World War on Queensland and the brave sacrifices made by our diggers.
The design of the new Anzac Legacy Gallery has been on hold pending a decision by the Queensland Heritage Council to place the Cultural Precinct, which includes the Queensland Museum, on the state heritage register. This decision was made on 12 June 2015 and Arts Queensland are now able to proceed with developing a design concept that meets Queensland Heritage Council criteria.
The Queensland Museum's curatorial concept for the gallery is being developed, with ongoing research and audience testing being conducted. The exhibition content will explore enduring themes of freedom and democracy, service and sacrifice. At the heart of the gallery there will be an experiential encounter with one of Australia's, and the world's, most significant and dramatic war relics—the A7V Sturmpanzerwagen armoured assault vehicle, 'Mephisto'.
Recovered by Queensland soldiers in July 1918 near the French town of Villers-Bretonneux, Mephisto is the last remaining First World War A7V Sturmpanzerwagen German tank in the world. Mephisto is currently on loan to the Australian War Memorial, where it will undergo conservation work and be on display in Anzac Hall until April 2017. It will then be returned to the Queensland Museum to go on permanent display in the new Anzac Legacy Gallery.
The Anzac Legacy Gallery is scheduled to open by late 2018.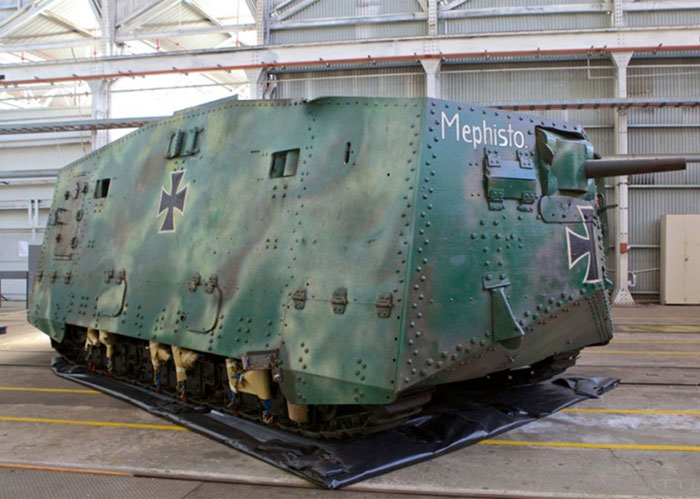 Video transcript
A German Tank captured by Australian soldiers on the Western Front in 1918, has gone on display at the Australian War Memorial. Named Mephisto by its crew, it's the last surviving German A7V tank, out of 20 that were built. Its permanent home is the Queensland Museum, but it's on loan to the Memorial for World War One centenary commemorations.