Glenvale State School plants the seeds of remembrance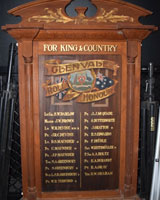 A garden is often a place of peace and contemplation. Glenvale State School's garden of remembrance is a special space to honour former students who made the ultimate sacrifice in the First World War.
The garden incorporates a stone memorial telling the stories of the young men from the district who bravely served and lost their lives in the First World War.
Glenvale's students researched and wrote the soldier's stories as a way of learning firsthand about the First World War and how it touched their community.
Colleen Duncan was the President of the Glenvale State School Parents and Citizens when the garden was established. Speaking before the project began, Ms Duncan said she believed it's important for the children at the school to learn about these young men who left their farms and families, never to return.
"The children will research the stories, using all the modern technology available. They'll see the letters the men wrote to their families at home, and they'll learn what it was like in the trenches."
The garden housing the stone plinth was stocked with native Australian plants and takes pride of place in the school grounds, in front of what would have been the young soldiers' classroom. Colleen explains the significance of the garden.
Before works began, Mc Duncan said, "We don't want this to be a 'precious' place. The garden is a spot every child walks past every day. The idea is that the kids now, and in the future will sit in the garden, maybe eat their lunch, and read these stories of the young men from our school who went away to war. They'll learn about the reality of war—that it's something to remember but not glorify."
The Parents and Citizens involved local organisations like the Toowoomba and Darling Downs Family History Society and the Milne Bay Military Museum, giving the project a community focus. The area has a strong military connection—several families from the army base at Oakey send their children to Glenvale. Colleen believed the creation of the garden and the memorial would make each Anzac Day more meaningful.
"We always have an Anzac Day ceremony and usually involve a parent who's a serviceman. This project and the children's participation will make sure our kids really understand the meaning of war."