Raise your voice
Voices of Remembrance was a moving musical tribute to the end of the First World War, proudly delivered by the Queensland Government in partnership with Queensland Music Festival (QMF) to commemorate the Armistice Centenary.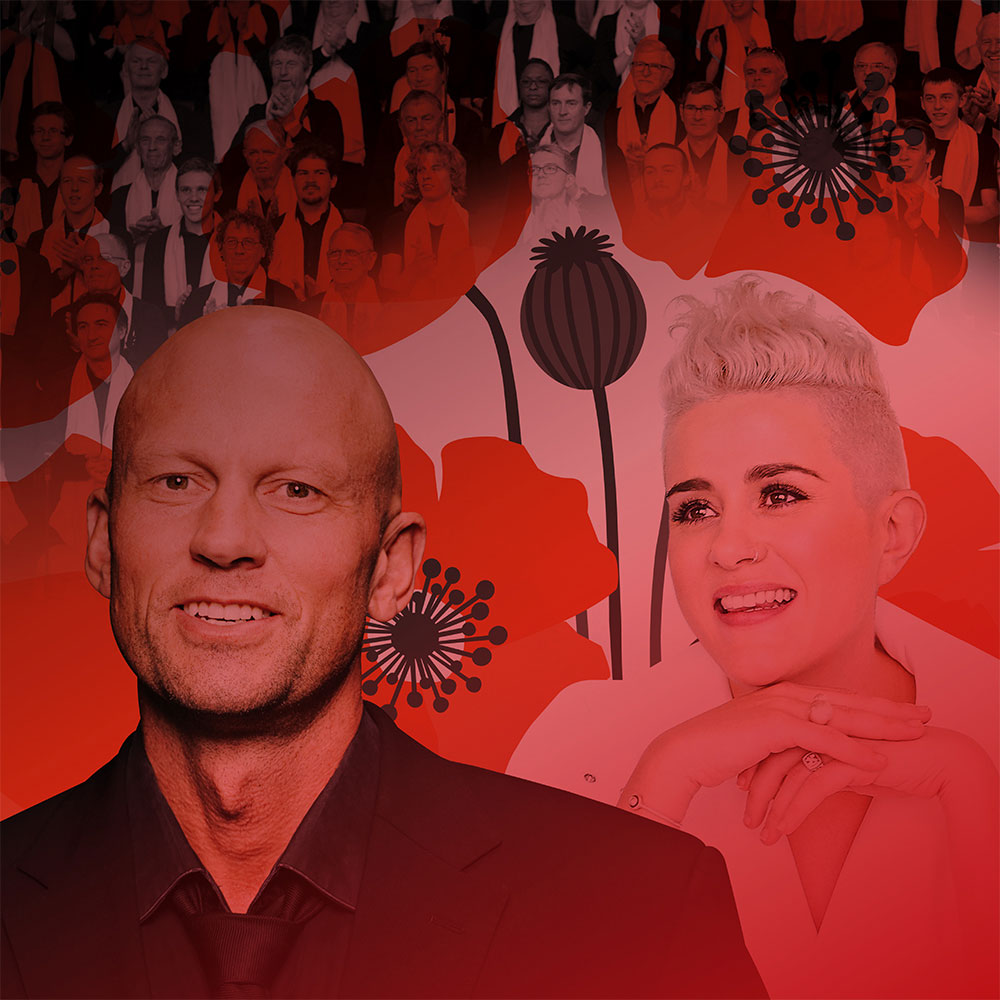 Award winning songstress Katie Noonan and renowned New Zealand baritone Teddy Tahu Rhodes took audiences in Toowoomba and Cairns on an incredible musical journey—through a poignant collection of iconic songs that reflected on the First World War experience and current impressions of the Anzac legacy.
Directed by Daniel Evans and under the musical and choral direction of Dr Jonathon Welch AM, Voices of Remembrance featured many iconic melodies and modern favourites—some triumphant, others contemplative, but all in honour of our past and present servicemen and women.
The talented leads were supported by a specially-formed choir of more than 150 local singers.
A highlight of the evening was the world premiere of a new piece by composer Gordon Hamilton. Called Eleven, the piece was inspired by our First World War troops and the complicated emotions they must have felt following the Armistice and on their return journey to Australia.
Community performances
Many community choirs around Queensland also learned the Voices of Remembrance repertoire, and performed to support local Remembrance Day and Armistice Centenary ceremonies, events and activities.
Choir and event
Location
Date and time
Details

A-Choired Taste
Beaudesert Remembrance Day Service (hosted by Beaudesert RSL)

Jubilee Park

Brisbane St, Beaudesert QLD 4285

Sunday 11 November 2018, 10.30am

Free event

Access Arts Choir

Stores Building, Brisbane Powerhouse
119 Lamington St, New Farm QLD 4005

Saturday 1 December 2018, 3pm

TBC

Atherton Performing Arts Choir

Memorial Park Yungaburra
Barrine Road Yungaburra, QLD 4884

Sunday 11 November 2018, 9.30am

Free event

Biloela State School Choir

Biloela State School Hall
48 Rainbow St, Biloela QLD 4715

Friday 9 November 2018, 10.15am

TBC

Caboolture Community Choir

Great Northern Garden of Remembrance
31 Tallowwood Dr, Deception Bay QLD 4508

Friday 30 November 2018, 6pm

TBC

Greater Gympie Remembrance Choir
Red for Remembrance

Memorial Park
River Rd, Gympie QLD 4570

Saturday 10 November 2018, 4pm

Free event

Mount Isa Community Ensembles Inc.
Mount Isa Voices of Remembrance

Mount Isa Civic Centre Lawns
23 West St, Mount Isa QLD 4825

Sunday 11 November 2018, 12pm

Free event

Redland Rhapsody Chorus

Anzac Centenary Park
17 Kinsail Ct, Cleveland QLD 4163

Sunday 11 November 2018, 10.30am

Free event

Seachange Sisters

Seachange Clubhouse, Emerald Lakes
101/1 The Inlet Dr, Carrara QLD 4211

Sunday 11 November 2018, 11am

TBC

Serenata Singers Inc.

The Gap Uniting Church
1050 Waterworks Rd, The Gap QLD 4061

Saturday 3 November 2018, 7.30pm

Tickets available at the door: Adults $20; Children $10.
Voices of Remembrance was delivered in partnership with Queensland Music Festival.