The community remembers
Queensland Remembers
Friday 9 to Sunday 11 November 2018
To mark the Armistice Centenary, over 70 Queensland buildings, statues, monuments and attractions from across the state lit up red or projected digital imagery from Friday 9 to Sunday 11 November 2018.
A highlight of the weekend was the digital projection onto the Kangaroo Point Cliffs which saw a wall of red poppies adorn the cliff face to honor the 57,705 Queensland soldiers who enlisted in the First World War.
Kangaroo Point Cliffs, Brisbane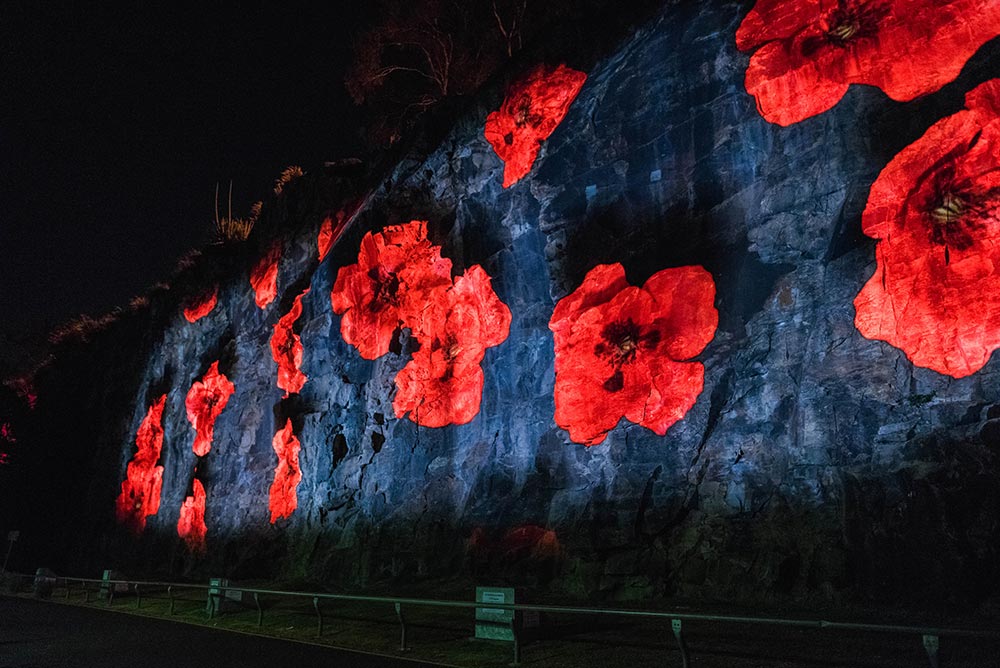 Kangaroo Point Cliffs, Brisbane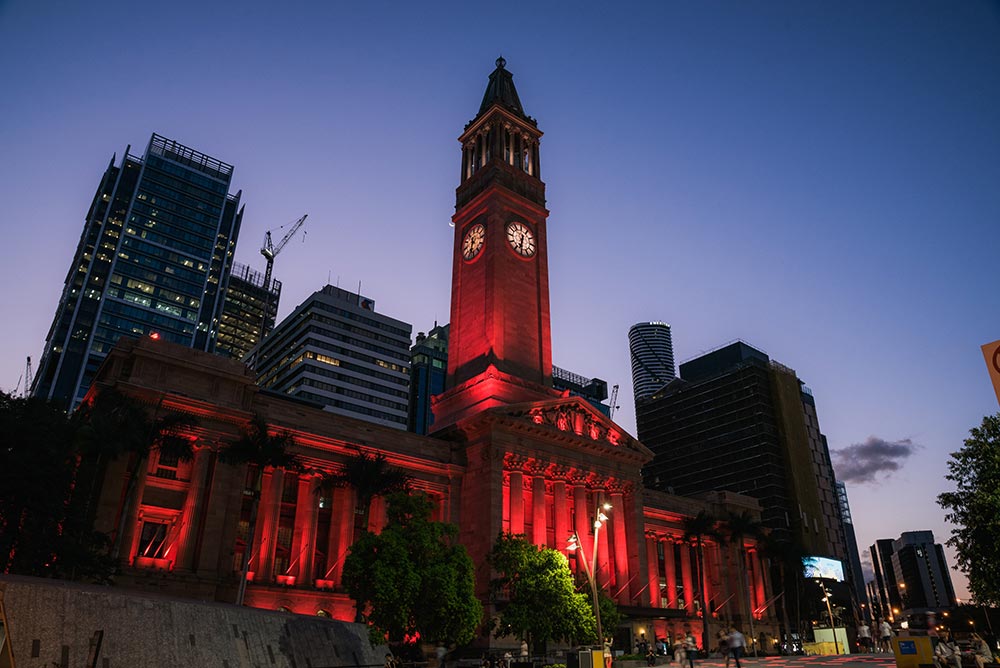 City Hall, Brisbane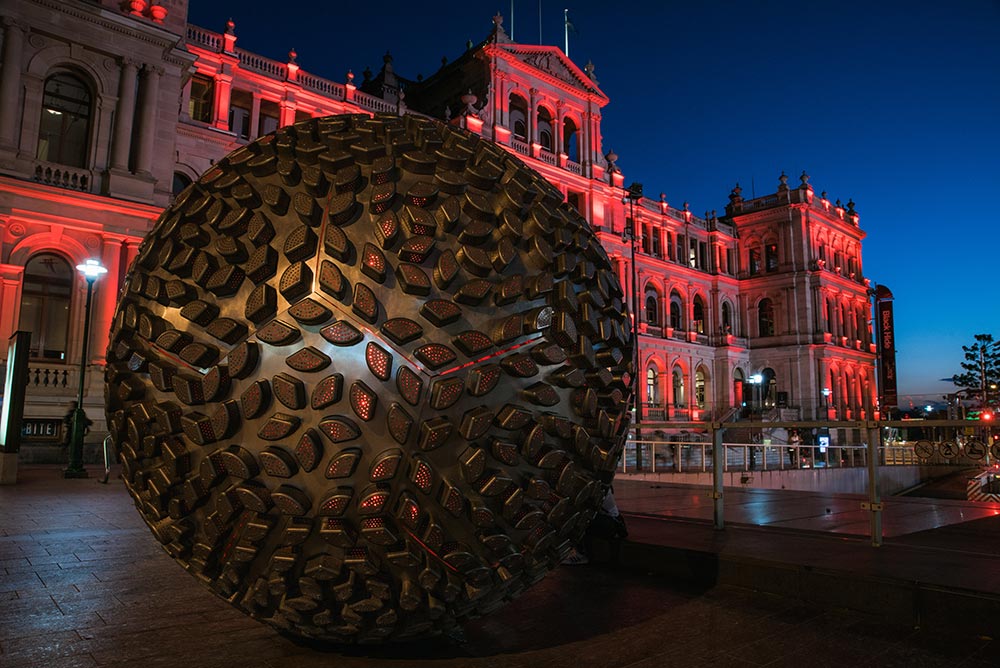 Reddacliff Place sculptures, Donna Marcus Steam 2006, Brisbane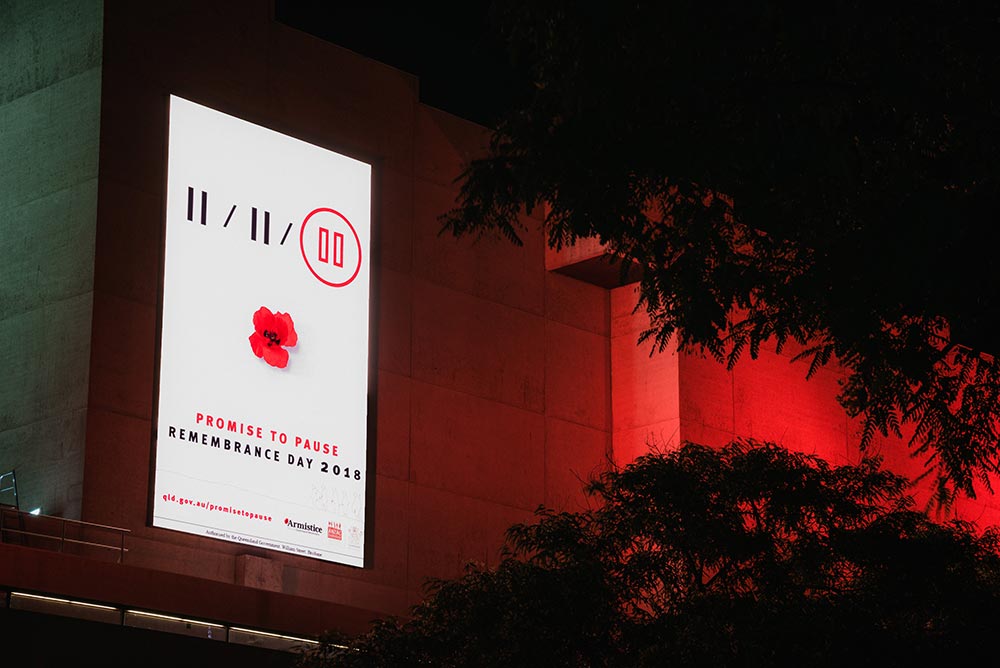 Queensland Performing Arts Centre, Brisbane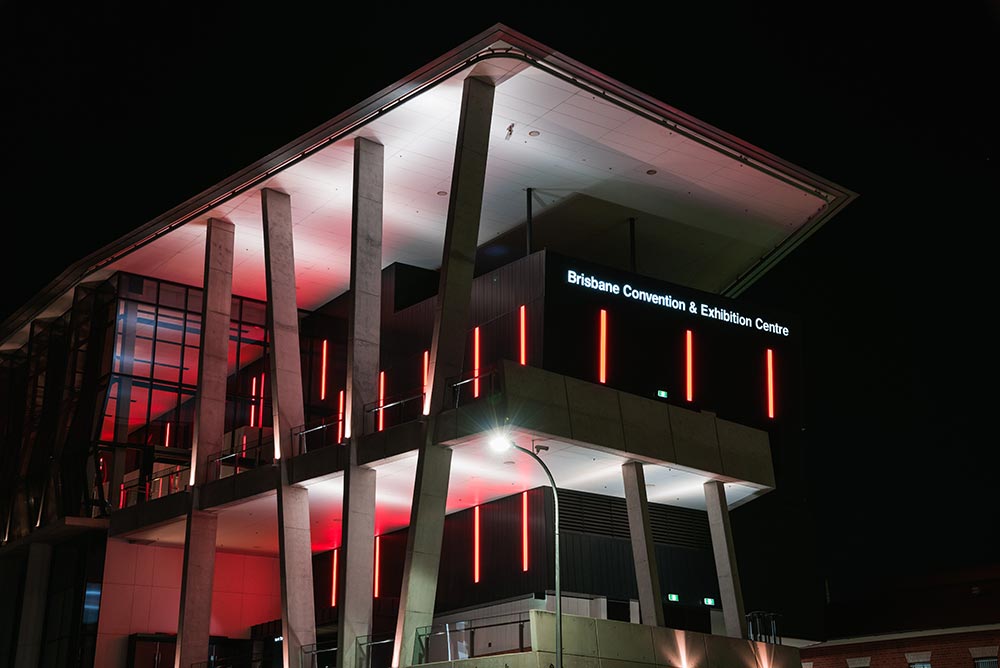 Brisbane Convention and Exhibition Centre, South Brisbane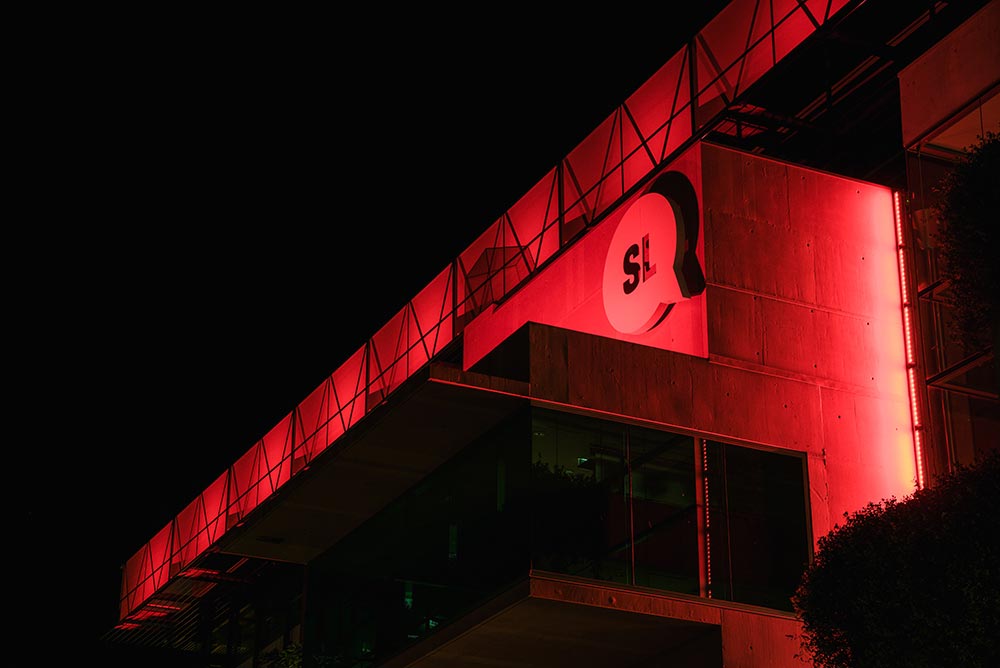 State Library of Queensland, South Brisbane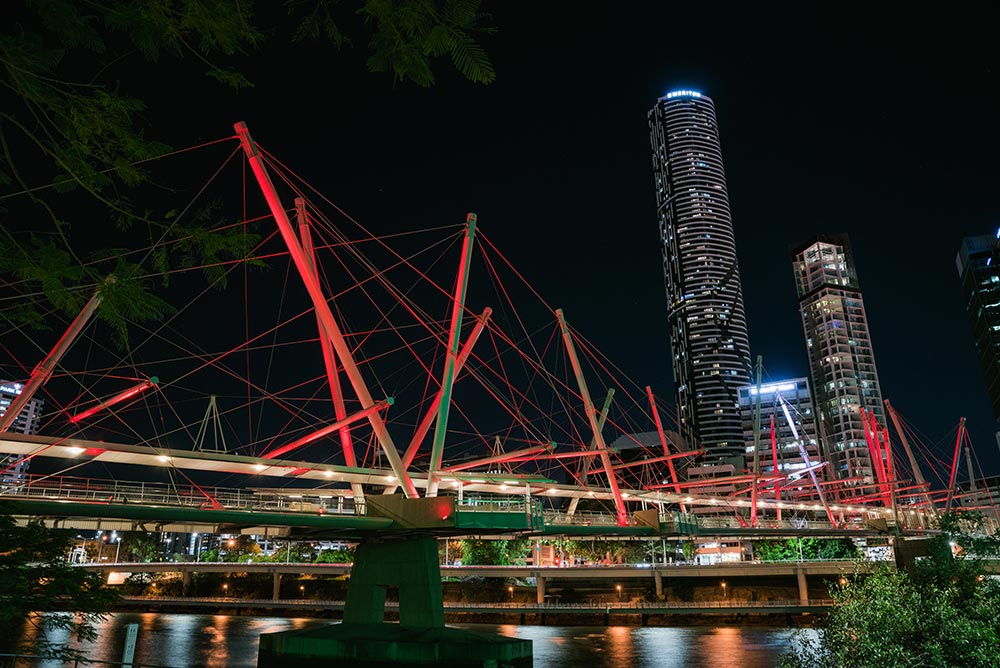 Kurilpa Bridge, South Brisbane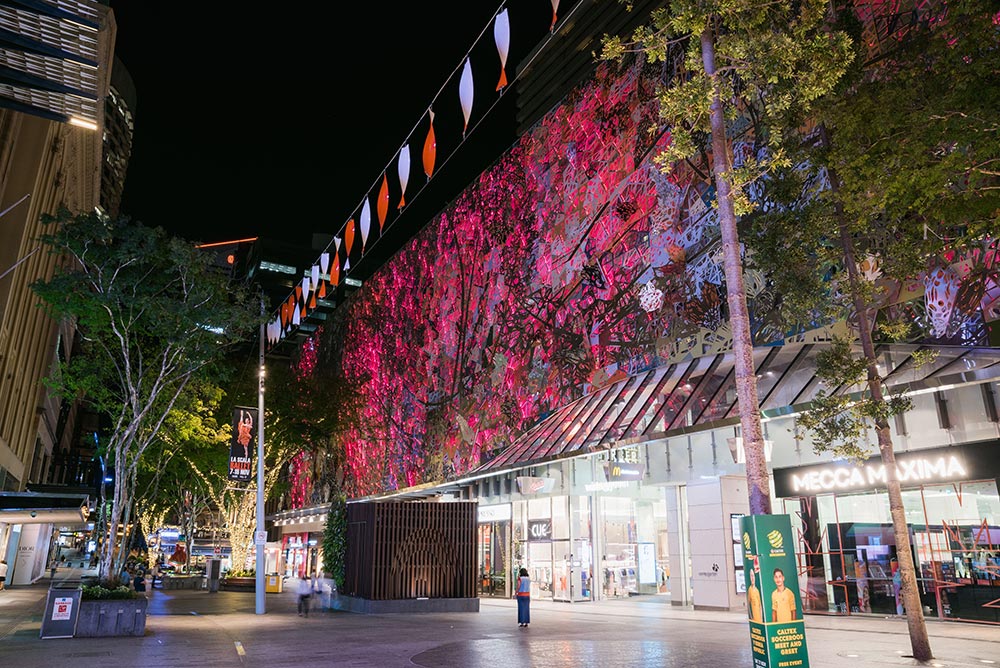 Wintergarden, Brisbane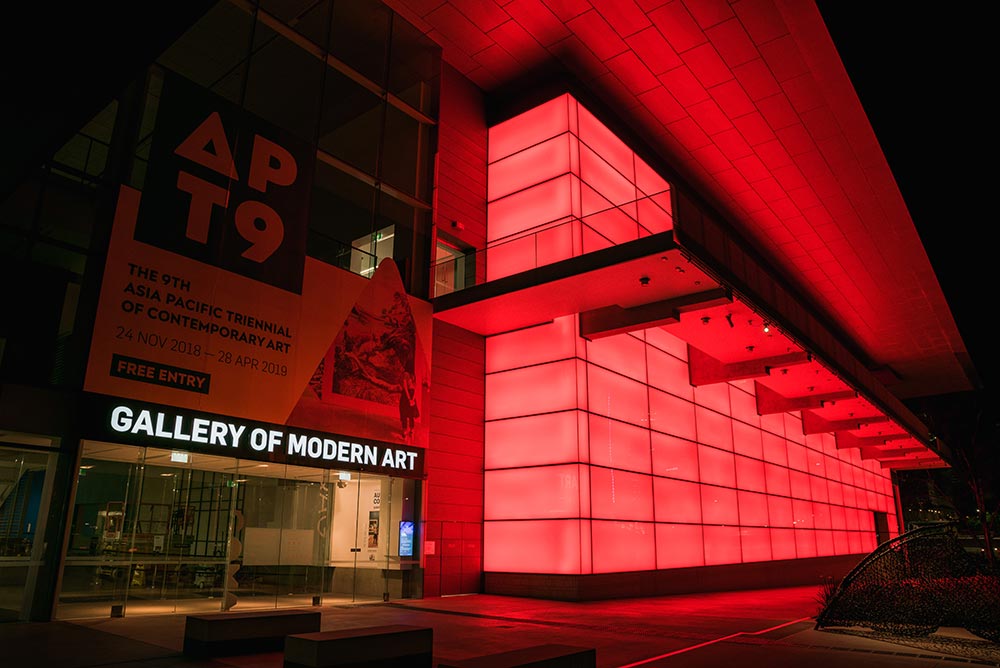 Queensland Art Gallery & Gallery of Modern Art, South Brisbane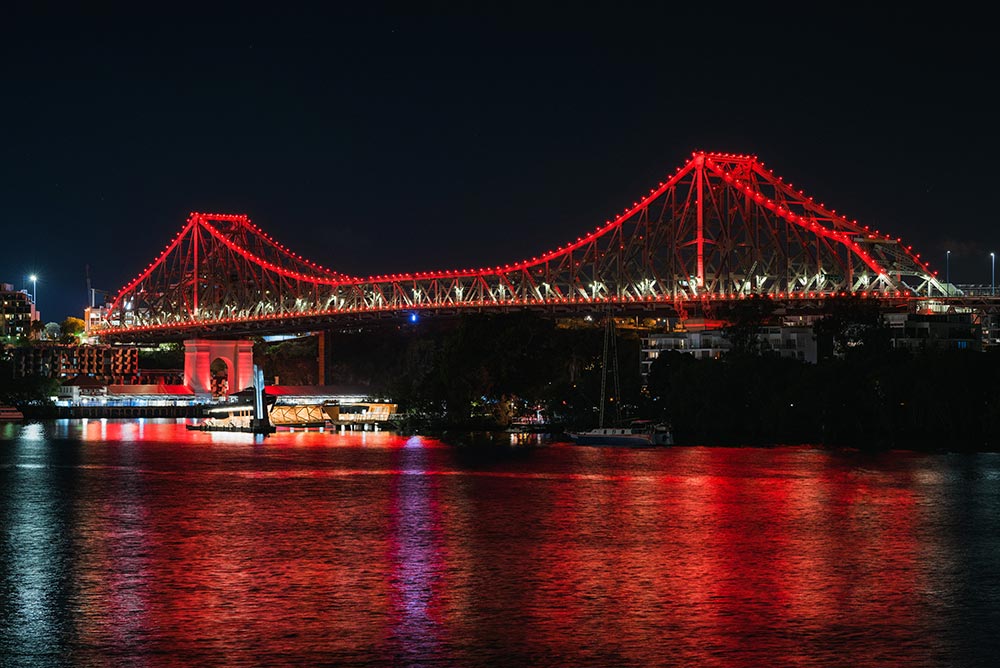 Story Bridge, Brisbane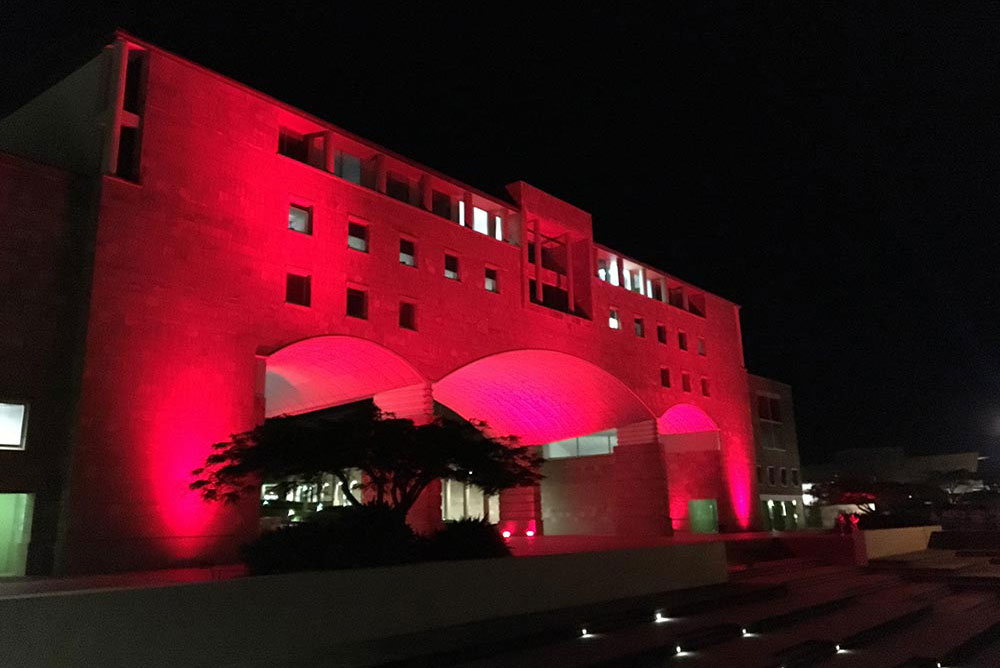 Bond University, Gold Coast—Central Arch Building, Robina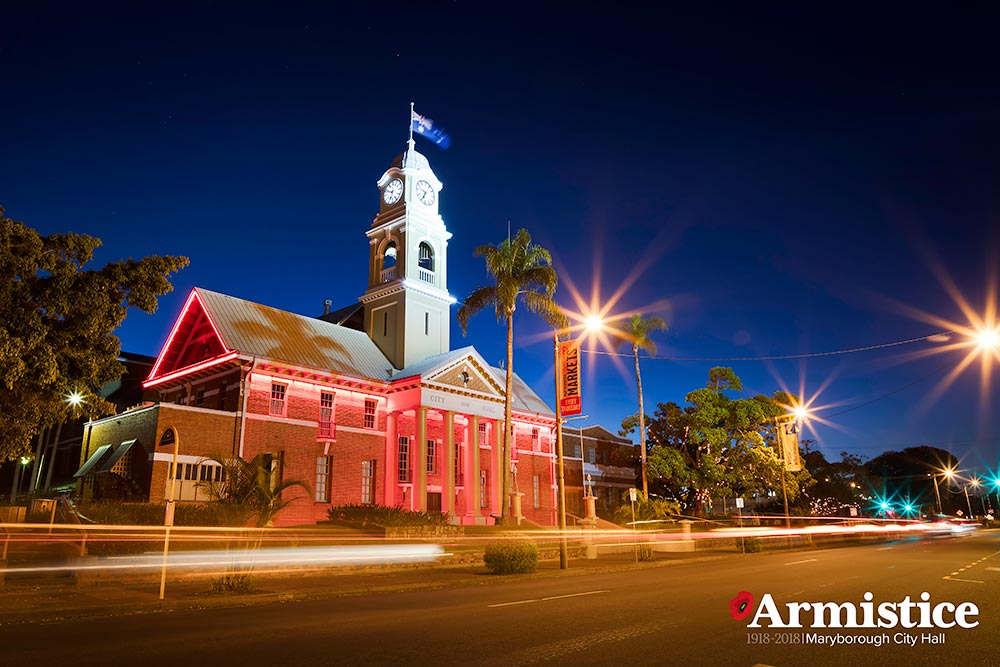 Maryborough City Hall, Maryborough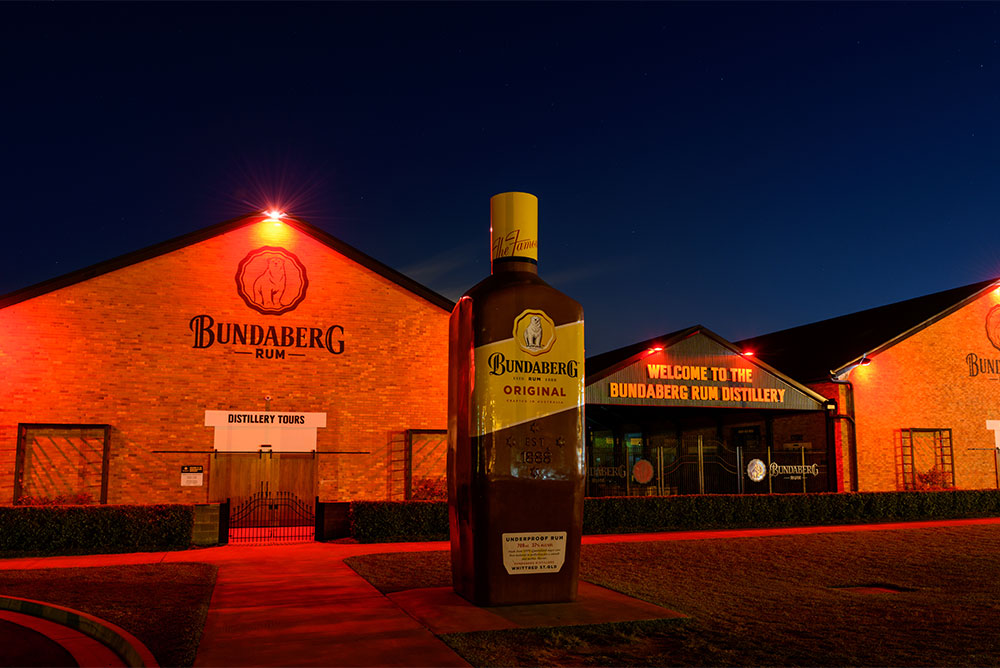 Bundaberg Rum Distillery, Bundaberg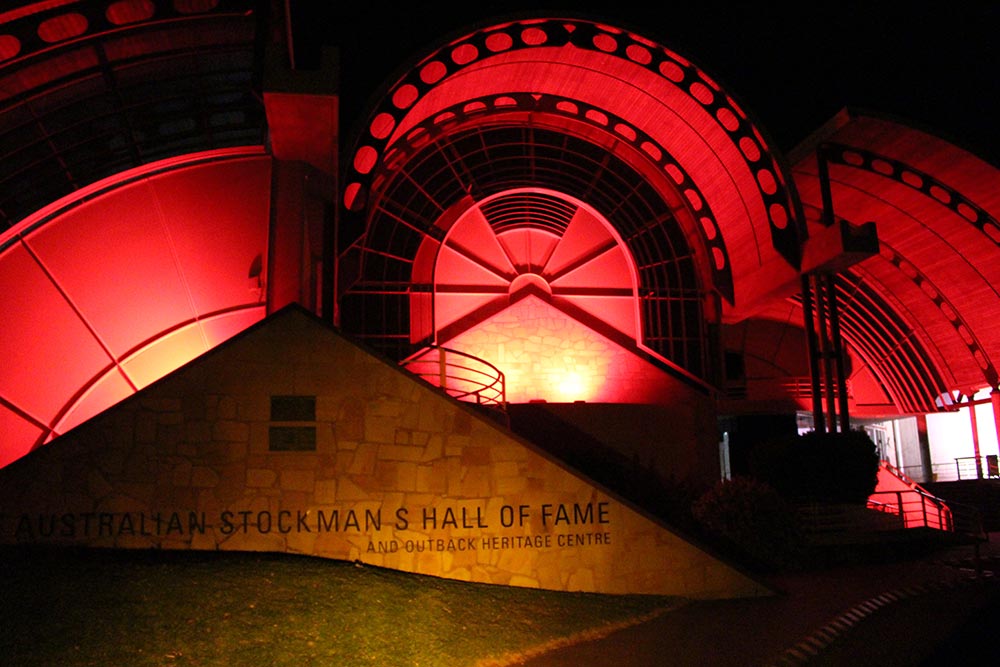 Australian Stockman's Hall of Fame, Longreach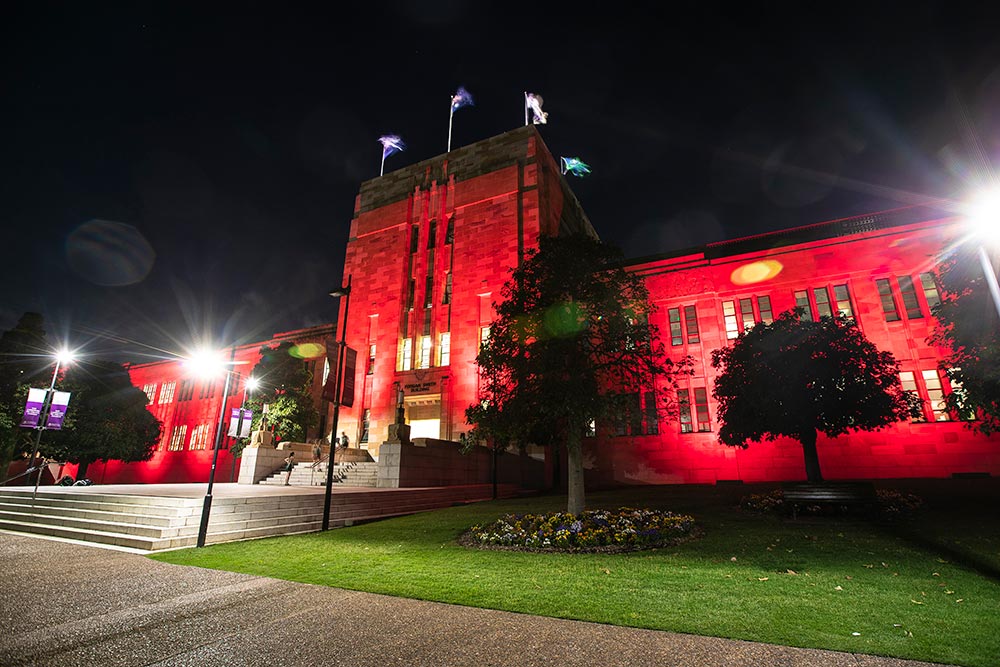 Forgan Smith Building, The University of Queensland, St Lucia
Select your region to see which assets in your local community participated in this special initiative. Listed assets participated from 9–11 November 2018, unless otherwise noted.
Anzac Memorial Fountain, Mareeba
Cardwell Flame Tree, Cardwell
Innisfail Shire Hall, Innisfail
Golden Gumboot, Tully
Central Water Fountain, Ayr
Muttaburrasaurus, Hughenden Information Centre, Hughenden
Cairns City Library, Cairns RSL and Cairns Courthouse, Cairns (projecting videos and images of the First World War)
The Central Business District, Mount Isa (5 to 11 November 2018)
747 Aircraft, Longreach
Australian Stockman's Hall of Fame, Longreach
Big Bull, Rockhampton
Big Orange, Gayndah
Catalina, Longreach
Central Highlands Regional Council chambers, 65 Egerton St, Emerald
Customs House, Rockhampton
National Heritage Listed Hanger, Longreach
Qantas Founders Museum, Longreach
The Singing Ship, Emu Park (11 November 2018 only)
Wreck Point Lookout, Emu Park (11 November 2018 only)
Aussie World, Palmview (11 November 2018 only)
Big Pelican, Noosa (11 November 2018 only)
Bundaberg Rum Distillery, Bundaberg
Freedom Park, Hervey Bay
Hervey Bay Cultural Centre, Hervey Bay
Mary Valley Heritage Railway, Gympie (11 November 2018 only)
Nala the whale statue, Hervey Bay
Noosa Council Administration Building, Pelican St, Tewantin
Street lighting along the Esplanade, Hervey Bay
Street lighting along Scarness Park and Bill Fraser Park, Scarness
170 Queen Street, Brisbane (11 November 2018 only)
Brisbane Convention and Exhibition Centre, South Brisbane
Central Station, Brisbane
City Hall, Brisbane (11 November 2018 only)
E.E McCormack Place Fountain, Upper Roma Street, Brisbane
Eiffel Tower—La Dolce Vita, Milton (11 November 2018 only)
Forgan Smith Building, The University of Queensland, St Lucia
Gasworks, Newstead
Judith Wright Centre of Contemporary Arts, Fortitude Valley
Kangaroo Point Cliffs, Kangaroo Point (projecting poppies onto the cliff face)
King George Square, Brisbane (11 November 2018 only)
Kookaburra Queen, Brisbane
Kurilpa Bridge, South Brisbane
London Woolstores Apartments, Newstead
Parliament House, Brisbane
Queen Street Mall, Brisbane (11 November 2018 only)
Queensland Performing Arts Centre (11 November 2018 only)
Reddacliff Place sculptures, Donna Marcus Steam 2006, Brisbane
Regatta Hotel, Toowong (2–11 November 2018)
Sir Leo Hielscher Bridges, Brisbane
Sir Thomas Brisbane Planetarium, Mt Coot-tha
Story Bridge, Brisbane
State Library of Queensland, South Brisbane
The Brisbane Sign, South Brisbane
The Waterwall at Roma Street Parklands, Brisbane
Tropical Dome, Mt Coot-tha Botanic Gardens, Mt Coot-tha
Victoria Bridge, Brisbane
Wheel of Brisbane, South Brisbane (11 November 2018 only)
Wickham Terrace car park, Spring Hill
Wintergarden, Brisbane (11 November 2018 only)
Bond University, Gold Coast—Central Arch Building, Robina
Gold Coast Convention and Exhibition Centre, Broadbeach (11 November 2018 only)
Home of the Arts, Surfers Paradise
Maryborough City Hall, Maryborough
Miami Beach Surf Life Saving Club, Miami
Pacific Fair, Broadbeach (11 November 2018 only)
Q1 SkyPoint Observation Deck, Surfers Paradise
QT Hotel Gold Coast, Surfers Paradise
Robina Shopping Centre—Lake Fountain, Robina
Southport Yacht Club, Southport
The Star Gold Coast, Broadbeach