Family tales captured on film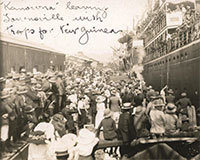 In 2015, CityLibraries Townsville produced 11 short videos about local First World War soldiers.
Dr Judith Jensen, Coordinator Lifelong Learning Townsville Library Services, said the library's callout for stories had an overwhelming response, with a large number of people coming forward with personal and family stories of soldiers from the First World War.
"In the series of films, families were asked to share their fathers', uncles' and grandfathers' memories, as well as their own stories and any memorabilia the soldiers bought back to Australia," Dr Jensen said.
"Personal First World War stories are disappearing and with no living First World War veterans, we felt time was running out.
"It is important the stories, told by veterans' families, are captured to become part of our historical collections, and are also shared widely for the new digital generation."
Dr Jensen explained that pride is evident as the people of Townsville tell stories of their family heroes.
"They are stories of soldiers, stories of battlefields, stories of what happened at and near the war and stories of when they came home. Or didn't. Stories of a different time and world, as well as hardship, loss, courage and spirit," she said.
The legacy of our First World War veterans is strong—with stories of endurance and hardship, mateship and passion reinforced and passed down through families. Any of these stories could have been lost, but now, through Memories for a New Generation: Townsville Remembers, viewers are able to connect with treasured new tales.
Many stories are yet to be told—from Indigenous diggers to migrants who survived the war and arrived in Townsville to resume their life. What is their heritage, how were they treated and what are their memories passed down to the next generation?
It is a rich educational resource for the youth of Townsville and beyond. The videos are available to new audiences and provide another way for old and new locals to share stories with each other. It is also attractive to younger generations who are drawn to the digital world.
Memories for a New Generation: Townsville Remembers is a valuable addition to the First World War education kit produced by CityLibraries, and can be viewed on the Townsville City Council website.