Footsteps through time—Cooktown remembers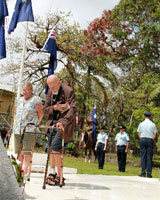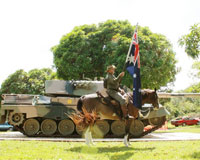 The Cooktown RSL buried a time capsule at Grassy Hill almost forty years ago and there's much local speculation and interest in its contents on this significant anniversary of the First World War.
The milestone of the Anzac Centenary prompted the RSL to open the time capsule as part of their 2015 Anzac Day dawn service. As well, the Cook Shire Council and the RSL (Cooktown sub-branch) planned a 30 kilometre 'remembrance walk' the week before Anzac Day.
The purpose of the walk was to acknowledge the many lives in the community that were changed by the war. There was 180 walkers, one for each of the 180 local men who joined up for the First World War, and each participant will proudly wear the name tag of a local soldier who went away to war.
Sally Eales is the Tourism and Events Officer with the Cook Shire Council. She believes these two activities were a fitting tribute to the men who sacrificed so much. She hopes the walk becomes an annual event.
"A lot of local men joined up for the war a hundred years ago and many of them didn't return. We think this year's Anzac commemoration will be very meaningful for our community. I know of one family, whose relative was killed in the war, who are coming back to Cooktown just to do the walk. So this is a great connection."
The time capsule and remembrance walk will complement Cooktown's historical society's own tribute to Anzac, an exhibition called "Behind the Lines" which they hope to open on Anzac Day 2015.